We had a terrific time in St. Charles ( W. Chicago). We didn't pick up anything major for our juke/soda collection but Tom did manage to find a few small things. We have such a nice collection now, that he isn't devastated if he doesn't come home with anything, he has such a good time just BS'ing with all his collector 'buddies'.
We had dinner Friday night at Al Capone's Hideaway with our friends Neil and Teran from New York. The Hideaway is rumored to have been Al Capone's hideout during the Prohibition years. It's not easy to find, but I'm sure the locals all know where it is. There are small signs pointing the way, but they are not easily found, you literally have to look for them on telephone poles and in the trees.
When you walk in the front door, there is a claw footed bathtub with shoes that have been encased in a slab of cement. You don't need an overactive imagination to understand what 'that' was used for! There's a bar area with a little souvenier shop that sells cigars, tee-shirts, sweatshirts, & mugs. The restaurant section is nice and cozy, dimly lit and the waiters and waitresses are dressed as gangsters. When we first started going there about 10 years ago, the waitresses gave their names as 'Sticky Fingers', 'Greasy Thumbs' but they haven't done that for quite a while now. The food is excellent, their specialties are steak and prim rib, ribs and seafood. Their soups & salads are awesome and you get a tiny waffle cone with sherbet before entree to 'clean the palette'.
We had dinner Saturday night with Bob from Florida and his girlfriend Jane at St. Charles Place. None of us had ever been there before that night, and we were very impressed. Beautiful place!! Good food. The maitre'd was so pleasant and friendly and stopped by our table to chat for a few minutes. He asked us where we were from and when Tom and I said Pittsburgh, he was delighted because his wife Jackie is originally from WhiteHall and he was a bit familiar with Oakland and the Southside. He called Jackie over and she also was very sweet and we chatted a good half hour. She knew from our accents that we were from the Pittsburgh area as only we folk speak 'Pittsburghese'.
What is Pittsburghese? It's the unofficial language of the Steel City. From da Sahside to Sliberty, you can find Picksburghers speaking just like this. Every tahn has its own flavor, and this is just one of ours. So if you are planning to visit Dahntahn or just catch a Stillers game we suggest you learn the language of the 'Burgh.
So quit jaggin' around already! Click sumpin!
We'll be heading back on that same roadtrip end of March 2007, sans our good Aussie friend Lee. He claims it could well be another 10 years before he can afford to come back over to the States with his family. He really wants to take his little girl to DisneyLand and can't come all this way without also making it to the Chicagoland Show.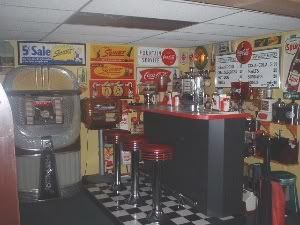 Here's are a couple photos of some of our collectibles in our gameroom aka basement in Pittsburgh
Mrs. Hyde has made another departure. She was around for a very short time while in St. Charles. How do I know? Someone kept turning up the airconditioner in our room while Tom was sleeping. Ha ha
technaroti tags:
Blogging
,
Blog
,
Blogs
,
Internet
,
Web
,
Weblogs
,
Bloggers
,
diary
,
Menopause
,
menopausal
,
my menopause blog
,
peri-menopausal
,
Humor